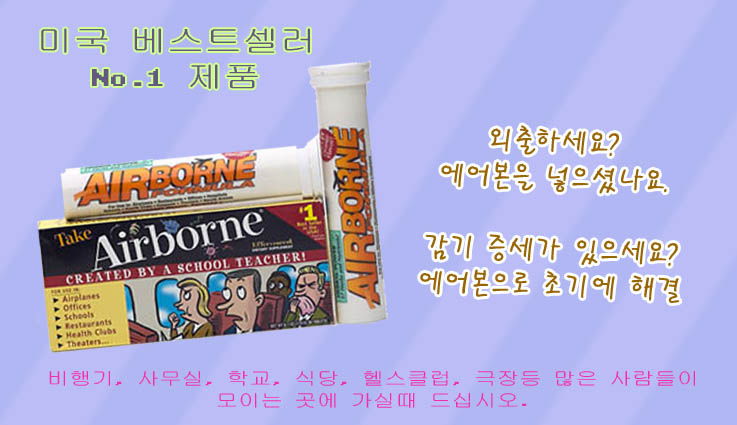 Airborne ABN601 감기, 바이러스 예방 36정 (2 x 18정)
Airborne은 쾌적하지 못한 나쁜 공기로부터오는 각종 바이러스로부터 여러분을 보호해 줍니다.
감기 증상 초기 또는 공기가 좋지 않은 장소에 들어갈 때 꼭 드시면 효과가 있습니다.
비행기, 사무실, 학교, 식당, 헬스클럽, 극장등 많은 사람들이 모이는 곳에 가실 때 드십시오.
비타민 C와 zinc가 포함된 17가지 성분이 들어 있습니다.
미국에서는 많은분들이 주머니 또는 핸드백에 가지고 다니면서 드시는 인기있는 제품입니다.
미국에서 베스트셀러 No. 1 제품입니다.
드시는 법 : 감기 초기 증상때, 적은양의 물에 Airborne 1정을 넣고, 1분정도 기다리시면 Airborne이 물에 용해됩니다. 그러면 마시면 됩니다. 필요에따라 매 3시간마다 드십시오.
어린이는 1/2 (반) 정만 드십시오. 임산부 또는 약을 복용하고 계신분은 의사와 상의후 드십시오.
Dietary Supplement
2 Tubes - 18 Tablets per Tube, 36 Tablets Total
Created by a school teacher!
#1 Best Seller in the USA! - Thank you America
For Use In: Airplanes, Offices, Schools, Restaurants, health Clubs, Theaters
"Thank you for using Airborne! I created Airborne because, as a teacher dealing with young children, I was sick of catching colds in the classroom."* -Victoria Knight-McDowell, 2nd grade teacher & developer of Airborne Formula.
Airborne is proud of the fact that we import no powdered herbs. To ensure safety, purity and potency, we do our herbal extracting in America using whole plant material. Effervescent technology offers 100% immediate absorption! Airborne's unique natural formula contains 17 herbs and nutrients, including ginger for nausea!*
Airborne®
Seven Herbal Extracts!
Antioxidants!
Electrolytes!
Amino Acids!
1,000mg of vitamin C!
Tastes Great!
No Artificial Colors or Preservatives
Take at the FIRST sign of a cold symptom* or before entering crowded environments.
*These statements have not been evaluated by the Food & Drug Administration.
**Herbal Extracts (from supplement facts): Proprietary Blend of Maltodextrin, Lonicera, Forsythia, Schizonepeta, Ginger, Chinese Vitex, Isatis Root, Echinacea.
CONTENTS: 2 Tubes- 18 Tablets per Tube
Net Wt. 6.1 oz. (170g) 36 Tablets
Made in USA
Questions? call 1-800-590-9794 or visit AirborneHealth.com
Next time, 'plop' the AIRBORNE!
Directions: At the FIRST sign of a cold symptom, simply drop (1) Airborne tablet in a small amount of plain water, let dissolve (about 1 minute) and drink.* Repeat every three hours as necessary.
Children: One half tablet. As with all dietary supplements, pregnant women or people on medication should consult physician before taking.
Sealed with a tamper evident cap for your protection
May be used in hot or cold water
Ingredients: Citric Acid, Sodium Bicarbonate, Sorbitol, Potassium Bicarbonate, Orange Flavor, Mineral Oil, Sucralose, Acesulfame Potassium
Warnings:
This product is not intended to diagnose, treat, cure or prevent any disease.